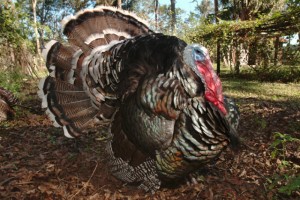 The Eastern Wild Turkey Trade Show will be held next week, May 17, 2012, at Thomas County's Osceola Plantation.  The field day starts at 8:00 a.m. and is sponsored by the Florida-Georgia Extension Game Management group, in collaboration with wildlife and forestry agencies from Florida, Georgia and the National Wild Turkey Federation.
The program kicks off with a presentation on wild turkey biology and moves to the field for the rest of the day. Stops on the tour will provide examples for discussions of chufa planting, hardwood bottoms, food plots, burning, long leaf pine establishment, timber harvesting and their effects on turkey populations.
Lunch will be in the field and participants will be entertained by North Carolina's state champion caller. The field day wraps up at with a trade show from 4:00 to 6:00 p.m. Vendors will be on hand to exhibit and demonstrate their products and services. The day concludes with a quail dinner hosted by the Thomasville Spur Collectors Chapter of the National Wild Turkey Foundation.
Lifelong call maker Allen Jenkins will provide "turkey tales" for your education and entertainment. Tickets are available for the full day's activities and separate tickets are available for either the field day or the banquet. Trade show admission is included in both of the separate tickets. Tickets, directions and more information are available. Registration closes May 14th.
Registration deadline is MAY 14
Cost:
$ 75 – All Events,
$ 30 – Field Day & Trade Show only,
$ 55 – Trade Show & Banquet only
Registration Online at:
http://flgaextgamemgmt2012.eventbrite.com/
Doug Mayo