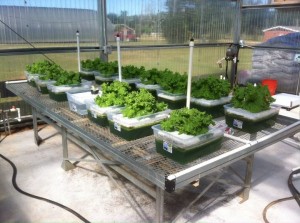 Food safety is a hot topic these days!  Headlines are grabbing our attention concerning food borne illness, contamination, and widespread disease outbreaks at restaurants, grocery stores, and even farmers markets.  Proper food safety practices are important for all food handlers and growers, including the backyard gardener.  I recently returned from teaching at the UF/IFAS display at the Sunbelt Agriculture Expo in Moultrie, GA and one main question in our exhibit was what can a backyard gardener do to protect themselves against food borne illness?  Several things quickly come to mind, and four are outlined below.
1. Obey all pesticide labels and instructions! You should always follow pesticide labeling to make sure it's permitted to use on the particular type of food plant you are considering applying it to, and that it's used at the proper amount. Your local UF/IFAS county agents can provide additional details if you are concerned about applying pesticides safely.
2. Limit animal access in your garden! All animals, wild or domestic, should have limited access to the growing area. A major source of contamination is animal waste, especially on products that are consumed raw. Lots of people like their pets in the garden, but they can quickly spread germs or illness on your produce. Do not feed wild animals near the growing area either because you will increase the chances of contaminating the produce in your garden.
3. Wear protective equipment when working in your garden! We take for granted a small cut or injury when we're happily pulling weeds out of what will be a great harvest, but it's important to make sure you are wearing gloves, pants, and proper shoes. This will reduce the risk of contaminating a plant and having to destroy it.  All plants that do come in contact with blood should be destroyed.
4. Use clean harvesting/storage equipment and containers! Clean means a lot of different things to people, but this is essential to prevent the risk of food borne illness. Plastic containers are the easiest to sanitize and store. You should make sure to clean them with soap between harvests and store in a dry location free of pests.  Don't use plastic shopping bags because of the risk of contamination from other products you purchased such as:  meat, dairy, chemicals, etc.
Following these four simple rules will reduce your risk of illness from your backyard garden. If you have further questions, please send questions to M. Allison Meharg (allisonm@ufl.edu), contact your local UF/IFAS Extension Office, or visit the following UF/IFAS website: Agricultural Safety: Food Preparation & Handling
Allison Meharg