UF Wildlife Field Day
The University of Florida North Florida Research and Education Center's Quincy Unit will be hosting a Wildlife Food Plot Field Day on Saturday, March 9th.  The Field Day will begin with registration at 9:00 AM Eastern (8:00 Central), will include lunch and will conclude around 4:00 PM.  There is a $ 10 per person registration fee for the Field Day, payable at the event.  Participants are required to pre-register by Noon on Friday, March 8th, online at http://nfrecfoodplot.eventbrite.com or by calling 850-875-7100.
Come visit the local testing of food plot materials, management, and temporary deterrents. We'll discuss all of this as part of a holistic approach to managing habitat  for game species. There will also be opportunities to hear about cost share assistance, learn how to age deer, identify native plants valuable for game species, and get your antlers scored according to the Florida Buck Registry. Lunch and door prizes included!  Specific topics on the agenda include:  wildlife habitat management, nutrient requirements of game species, managing native vegetation, estimating deer age, technical and cost share assistance, food plot fertilization, food plot deterrents, food plot variety selection, native vegetation identification, and Florida Buck Registry scoring (bring your trophy).
Download the Flyer:  UF Wildlife Field Day 2013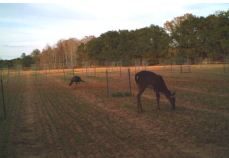 The NFREC Quincy Unit is located at 155 Research Road, Quincy, Florida.
Directions:  from I-10, take Exit #181 (SR-267), and go north approximately ¼ mile. The Center is on the left at Research Road.