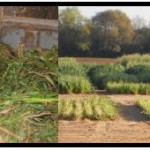 Beef & Forage Field Day – March 14
The University of Florida North Florida Research and Education Center's Marianna Unit will be hosting a Beef & Forage Field Day on Thursday, March 14, just west of Greenwood on Highway 162.  Registration begins at 8:00 AM.  Lunch is included, and the program will conclude at 3:00 PM.  There is a $ 10 per person registration fee for this event.
There will be a research and demonstration tour with the following topics presented:  weed control, nutrition, managing beef quality, pregnancy diagnosis, cool season forage production, pesticide spill cleanup, and sprayer calibration.  The Field Day will conclude with a ribbon cutting and tour of the new graduate student dormitory. Restricted Use Pesticide CEU's will be offered for attending this event.
For more information:
For further information call 850-394-9124 or visit the NFREC website (nfrec.ifas.ufl.edu).
Download the printable version of the flyer for this event:  NFREC Beef Forage Field Day 2013.
Or click on the flyer image for online viewing: