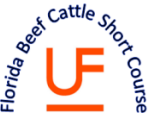 62nd Annual UF/IFAS Beef Cattle Short Course May 8-10, 2013
Straughn Extension Professional Development Center, University of Florida, Gainesville, Florida
2013 Florida Beef Cattle Short Course Program:  
Addressing Challenges of a Dynamic Industry
Registration:  $ 125 before April 24, $ 165 after April 24
To register, get driving directions, hotel, and additional information: Beef Cattle Short Course Registration
The 2013 Florida Beef Cattle Short Course Program Committee and the Department of Animal Sciences would like to invite you to attend this year's Short Course. The Short Course will be held at the Alto and Patricia Straughn IFAS Extension Professional Development Center, located at 2142 Shealy Drive, Gainesville, Florida 32611. The building is located convenient to the main campus of UF and downtown Gainesville. For your convenience we have blocked rooms at exceptional prices at three locations near the University.
This year the Allied Trade Show will be held in conjunction with the program on Thursday afternoon at the Horse Teaching Unit from noon to closing. This will offer an enhanced opportunity for interaction between Beef Cattle Short Course participants and our Allied Industry Exhibits.
The first part of this year's agenda, "Addressing Challenges of a Dynamic Industry," beginning on Wednesday, May 8, 2013 will cover topics from market outlook to application of genomics for cattlemen to results from a long-term Angus-Brahman breeding program. We will also address the new animal identification initiatives for the state and offer an open discussion with key Florida cattlemen about their production management.
Thursday morning's agenda will concentrate on Beef Quality Assurance including the implications of the fed-beef audit for Florida, perspectives on cull cow value, and animal handling and wellbeing issues. The highlight will be an entertaining discussion about cattle health care practices targeted for everyday producers. That afternoon we will have several opportunities for participants to view the real outcomes of mismanagement as it relates to Beef Quality Assurance and the use of animal health products. Participants will also learn about feed, forage, and pasture management applications that will decrease input costs and positively affect their enterprise's bottom line. The evening will conclude with the Cattlemen's Steak-Out!
Friday morning will consist of quick reviews of past and ongoing research being performed by University of Florida faculty. This will give participants a chance to meet research and extension faculty investigating cattle, forage, and weed management research directly related to the cattle industry and production practices. This gathering of faculty will be unrivaled in scope and breadth and offers a great opportunity for dialog and interaction.
We have an outstanding array of speakers from UF, UF's Research and Education Centers, the beef industry, Oklahoma State University, University of Nebraska, and Texas A & M University. This line-up of speakers will be sure to provide great information for the cattleman that is looking for relevant management information.  This promises to be an exciting program with great information.
2013 Beef Short Course Agenda
Wednesday, May 8th 1:00 PM- 5:30 PM
Big Issues with Florida Impacts
1:00 Welcome
1:15 Cattlemen Comments – Woody Larson
1:30 Market Outlook – Dr. Derrell Peel, Oklahoma State University
2:15 Genomics: Promises from the Past – Dr. Andy Herring, Texas A&M University
3:30 Results from the Angus-Brahman Multi-breed Project – Dr. Dwain Johnson, University of Florida
4:15 Connection to Cattlemen – A Discussion with Producers
5:00 Update on Animal Identification – Florida Department of Agriculture and Consumer Services
5:30 Reception
Thursday, May 9th 8:00 AM – 6:30 PM
Focus on Beef Quality Assurance
8:30 Implications of the Fed Beef Audit – Dr. Chad Carr, University of Florida
9:15 Perspectives on Cull Cow Value
10:30 Cattle Health Practices for Those that Wear Spurs and Spit – Dr. Dee Griffin, University of Nebraska
11:15 Animal Handling and Wellbeing Issues
12:00 Lunch at the Horse Teaching Unit
1:30 Afternoon Demonstrations:  Live Cattle Demonstrations, Cattle Necropsy-Disease, Feed-Forage-Pasture Demonstrations
6:00 Steak-Out at the Horse Teaching Unit
Friday, May 10th 8:30 AM – 12:00 PM
UF Beef and Forage Research Updates
8:30 Dr. Matt Hersom, Department of Animal Sciences
Dr. Owen Rae, Department of Large Animal Clinical Sciences, UF College of Veterinary Medicine
Dr. Nicolas DiLorenzo, North Florida Research and Education Center-Marianna
9:15 Dr. Cliff Lamb, North Florida Research and Education Center-Marianna
Dr. Joao Vendramini, Range Cattle Research and Education Center-Ona
Dr. Todd Thrift, Department of Animal Sciences
10:30 Dr. John Arthington, Range Cattle Research and Education Center-Ona
Dr. Lynn Sollenberger, Department of Agronomy
Dr. Chad Carr, Department of Animal Sciences
11:15 Dr. Brent Sellers, Range Cattle Research and Education Center-Ona
Dr. Yoanna Newman, Department of Agronomy
11:45 Group Questions