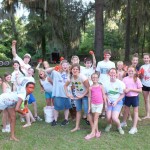 One word: Incentives
Youth enjoy 4-H summer camp because it provides a welcoming environment where they can learn and grow.  They get to make new friends and participate in activities like, archery, swimming, canoeing, rocketry, kayaking, arts and crafts, and more.  When they come home from camp singing camp songs and relating their awesome experiences, they encourage their friends at school as well as fellow club members to come with them during the next year. With this in mind, how can club leaders and other volunteers encourage youth to participate in camp if they have never attended or have never considered attending?
At this time of year, camps may already be over for your county 4-H program, but it is never too early to start planning for next summer. As club leaders, when you begin thinking about fundraising and club program planning for the fall, consider incorporating some "camp incentives" for youth who might want to plan to attend camp next year. Here are a few ideas:
Include fundraising percentages or credits given to members who participate in and plan club fundraisers.  Maybe 10% of the funds they raise for the club in a particular fundraiser will go to their camp fees, etc.
You may offer full or partial scholarships to youth who demonstrate leadership or take on an officer role in a community club setting.
Allow 4-H members who turn in a completed and well-produced project book to be rewarded at the awards banquet with a camp price reduction or prize to be used in conjunction with camp attendance such as a club t-shirt or goodie bag with camp related items.
While funding for camp can introduce challenges for some club members, these obstacles when handled appropriately and quickly can provide terrific learning opportunities for youth who earn their way to attend camp and have a wonderful experience while there.