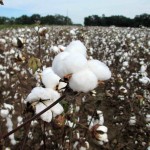 Harvest has begun in a few early planted fields around Northwest Florida this week. Additionally, some defoliant applications were made as well.
Tropical Storm "Karen" is projected to be felt in the Florida Panhandle sometime this Sunday. The imminent rain and winds from "Karen" could be bad news for cotton farmers.
Dr. David Wright, University of Florida Agronomist spoke briefly about some concerns in mature cotton fields:
"Fields that have been defoliated or fields that have large amounts of open bolls are at the greatest risk for losses from the storm this weekend. Heavy wind and rain could cause exposed lint to fall to the ground. During a storm, leaf cover is the best protectant a farmer has against loss. Hopefully growers will be able to resume defoliation applications next week."
For information on cotton defoliation see 2013 Cotton Harvest Timing and Defoliation or contact you local UF/IFAS Extension Agent.