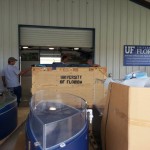 October 15 – 17, 2013 in Moultrie, GA


Each year University of Florida IFAS Extension participates in the annual Sunbelt Ag Expo in Moultrie Georgia. The Sunbelt Ag Expo is the largest agricultural expo in the southeast attended by over 100,000 visitors! In addition to seeing more than 1,200 commercial exhibits and agricultural demonstrations, guests can also visit many southeastern university displays located throughout the expo. The University of Florida, IFAS Extension has its own permanent building for educational displays featured at the Expo, and additionally this year, Florida is honored as the Sunbelt Expo's "Spotlight" state. The Florida Department of Agriculture and Consumer Services will be presenting an interactive display called "Florida Agriculture: Then and Now."
This year's UF/IFAS Extension display is Water!, and we will have eight interactive exhibits related to this topic for you to see. A brief description of these exhibits follows below.
Florida's Magnificent Springs and Water Resources
Florida is uniquely characterized by its numerous and treasured water resources. This exhibit will highlight Florida's precious water resources, and the importance of protecting them into the future.

Recreational Uses of Florida's Water Resources
The use of Florida's waters for fishing, swimming, boating, diving, etc. is one of the state's greatest sources of economic revenue. This exhibit describes the many diverse uses of Florida's water resources.
Water Conservation in the Home and Garden
Florida's waters are vitally important not only for recreation, but agriculture, and domestic use as well. This exhibit will demonstrate many ways you can conserve and protect our water resources.
Invasive Aquatic Plants of Florida
Non-native, invasive aquatic plants are a threat to Florida's water resources. This interactive exhibit will highlight Florida's most problematic invasive aquatic plants and the ways they negatively impact our water resources.
Invasive Animal Species of Florida
Non-native, invasive animals are a threat to Florida's water resources too. This exhibit will educate you about some of these invasive animals and the ways they impact our water resources and response strategies.
Florida Aquaculture – Focus on Clams
Aquaculture is Florida's underwater agriculture! This exhibit will feature a live salt water touch tank and educate you about Florida's clam farming industry.
Florida's Citrus Industry
Florida's water resources are critical to irrigated agriculture. The citrus industry is one example of an irrigated agricultural product, and this exhibit will highlight some of the best management practices the citrus industry uses to protect our water resources.
University of Florida College of Agricultural and Life Sciences (CALS) Ambassadors
This exhibit is part of the Sunbelt experience each year and will feature the CALS Ambassadors. They are on hand to answer any questions you may have about becoming a student at the University of Florida!
Don't forget about our featured crops and giveaways – come see us for free samples of Florida Peanuts and Florida Orange Juice! Visit our Facebook Page for updates from the Sunbelt Ag Expo and more information.