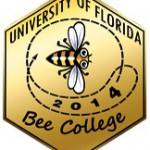 The University of Florida's Honey Bee Research and Extension Lab is proud to announce their annual Beekeeper training events at the Whitney Lab at Marineland, Florida, March 6th, 7th, and 8th.
The University of Florida Master Beekeeper Program (March 6th)
The Master Beekeeper Program (March 6th) will be holding its biannual training and exams on Thursday March 6th at the Whitney Lab at Marineland, Florida. The Master Beekeeper Program (MBP) is a five-year beekeeper training and certification program and boasts nearly 300 active members. This collection of registered beekeepers performs public service credits as a part of program advancement. To date, they have collectively reached nearly three million people in the state of Florida and beyond. They serve as bee ambassadors to beginning beekeepers, the public, and our community, by teaching and serving as an extension of UF/HBREL The MBP trains and educates beekeepers on new techniques, potential problems, tips and tricks to improve their beekeeping skills. Perhaps most importantly, it keeps beekeepers around the state and country connected and furthermore, connected to their communities. Beekeepers must have owned at least one hive of bees for at least one year to register, and entry to the MBP is attained by passing the apprentice examinations on exam day. Further into the program, students choose a major and attain major and core credits. To graduate as a Master Craftsman beekeeper, the final level in the program, one must complete a research project or Extension program.
For more information

The University of Florida Bee College

(Friday, March 7, 2014 – Saturday, March 8, 2014)

The University of Florida Bee College (Friday, March 7, 2014 – Saturday, March 8, 2014) is the most extensive educational honey bee event in the state of Florida and is back for its seventh year! Everyone is welcome to attend Bee College: beekeepers, naturalists, farmers, gardeners, county agents, and anyone interested in honey bees! It's not too late to register, as you might know, we fill up pretty fast but there is still time! Registration is open until Tuesday March 4th. Bee College is the best time you could have learning about honey bees and beekeeping, the full schedule is available on the website. There are topics for beginners, advanced, hands-on demonstrations, workshops on everything from Honey Extraction, Varroa Biology, Grafting, Queen Rearing and IPM approaches! The keynote speakers this year are Dr. Dewey Caron, (U. Delaware) and Dr. Jim and Maryann Frazier of Penn State. As always, we will have the FL apiary Inspection Team, the HBREL team, and a host of other great speakers. Bee College has enough beekeeping knowledge to last you all year! You'll receive a stunning Bee College pin, a goody bag, a program binder with lecture material, snacks, lunch, banquet dinner, awards ceremony and a raffle where you can win great prizes!

Coupled with the UF Bee College is the Annual Bee College Honey Show. Our honey show is the largest in the state, and winners can proudly claim the title of "Best Honey in Florida"! The Bee College Honey Show provides a wonderful opportunity to showcase all of your (and your bees!) hard work. The show will be judged using the Welsh Honey Judge methods by certified professional Honey Judges and Stewards, and winners will be announced during the awards ceremony Friday evening. If you want to exhibit in the show, all you have to do is register for the Bee College, check out the exhibit classes, and send your entry form in early. You can enter items such as extracted honey, candles, frames for extraction, artwork, and more. Exhibit classes and the entry form are posted on the honey show page linked above.
For general information please visit: www.ufhoneybee.com

For registration questions, please email: Glinda Burnett