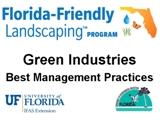 Florida Statute 482.1562 states that all commercial fertilizer applicators must have a license from the Florida Department of Agriculture and Consumer Services (FDACS) by January 1, 2014. 
To provide training pursuant to this statute, the Green Industries Best Management Program (GIBMP) was developed.  These classes instruct green industry professionals in techniques of fertilizer, pesticide, and irrigation application that help reduce and prevent pollution caused by runoff and leaching. Runoff and leaching is usually driven by rainfall and creates non-point source pollution.  By learning how to implement the safest methods of fertilizer and pesticide application into their daily work, green industry professionals can do their part to maintain and improve Florida's water quality and environment.
Agricultural Producers can also benefit from these classes by learning ways to save money by reducing fertilizer expenses. Also 2 core and 2 private applicator CEUs are available for those with a private applicator's license.
The GI-BMP program has FDACS approval for 2 Core CEUs and 2 additional CEUs for the following licenses:
Private Applicator – Agriculture
Ornamental & Turf
Limited Lawn & Ornamental
Limited Landscape Maintenance
Commercial Lawn and Ornamental
Limited Commercial Fertilizer Applicators
(2) Limited Urban Fertilizer credit hours