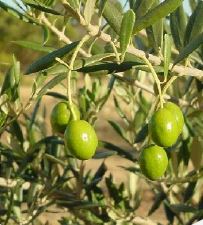 Join us on April 4th from 8 am to 1 pm at the University of Florida West Florida Research and Education Center in Jay (4253 Experiment Road, Jay FL 32565) to learn more about olive production in the Panhandle.  Guest speakers will include Michael O'Hara Garcia, President of the Florida Olive Council,  Don Mueller, Longtime Florida Olive Grower, and Sam Shaw, Super High Density Grower.
The cost is $ 10 per person and includes seminar handouts and lunch.  Please pre-register at https://www.eventbrite.com/e/panhandle-olive-production-seminar-tickets-10891018329
Program Agenda:
8 AM Registration and Welcome
9 AM Florida Olives Overview
9:30 AM Producing Super High Density Olive Groves
10:30 AM Break (will have olive trees for demonstration and discussion)
10:45 AM "Conventional" Olive Grove Production
11:45 AM Question and Answer Session
12:15 PM Lunch
For more information, contact Robin Vickers, UF IFAS WFREC Events Coordinator, at 850-983-7134 or by email at rvickers@ufl.edu.