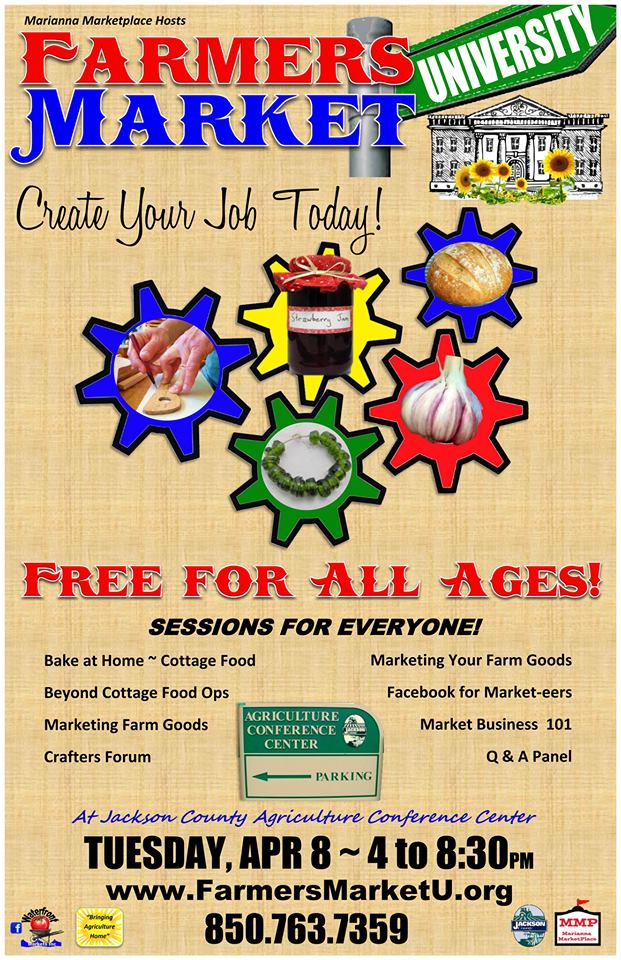 Join Makers, Bakers, and Growers from Jackson and surrounding counties to ignite enthusiasm for your local community farmers markets!  With traditional jobs becoming harder to secure, many local citizens are discovering their love for farming, arts and crafts, baking, and gardening, and are transforming their passions into jobs.
Farmers markets are great catalysts in the community.  People go to shop, to socialize, and to test ideas for businesses in a low-risk setting. Farmers Market University nurtures this growth and inspires people to create jobs for themselves to improve their lives.
Jackson County Extension is hosting Farmer's Market University on Tuesday April 8, at the Jackson County Agriculture Conference Center  This is a sponsored program with free admission, but pre-registration is required.  To register use the following link:  ONLINE REGISTRATION, or call 850-763-7359.

For more information:

or contact:
Mandy Griffin, Family & Consumer Science Agent
Jackson County Extension
850-482-9620
amandangriffin@ufl.edu