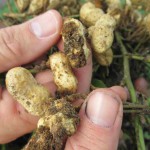 A hot and dry summer for many Panhandle farmers has given no relief from pests this year. Peanut root-knot nematodes (Meloidogyne arenaria) are no an exception. Damage from nematodes has been severe in many areas of Jackson County where the fields are very sandy.
Root-knot nematode damage is more apparent in hot and dry years, and in fields where their numbers are highest. Growing peanuts 2 or more years in a row greatly increases the populations of root-knot nematodes. However, nematodes can still be severe even with good crop rotation, as is the case this year in Jackson County.
Sometimes, affects from nematodes go unnoticed, since they can look similar to and occur at the same time as some diseases like white mold and rhizoctonia. See the pictures of nematode infection that follow.
When peanuts are on at least a 3 year rotation, the only other effective control is to fumigate with Telone II or to plant Tifguard, a root-knot nematode resistant variety.  For more information: Peanut Nematode Management.