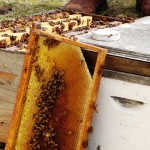 The EscaRosa Beekeepers Association invites you to the Open Hive Workshop and BBQ on May 16, 2015 from 8 am to 3 pm.  The event will be held in the home garden of Joe and Nancy Tavernetti, 1110 Bauer Road, Pensacola, Florida.  Throughout the day, beekeepers will provide workshops and demonstrations at three open hive work stations.  Presenters include Morgan Bullard, Dan Killingsworth, Shelby Johnson, and Doc Bullard.  Visitors will have the special treat of visiting the Perdido Bay Tribe Mobile Museum and a  tour of Joe's garden. For those who register by May 10th, the cost is $ 15.  If you want to pay on arrival, registration will be $ 20.
To register, send a check, payable to EscaRosa Beekeepers Association, to the following address:
Escarosa Beekeepers Association
Rizza Johnson, Treasurer
6310 W. Fairfield Drive
Pensacola, FL 325306
If you need more information, contact Rizza at 457-6737 or visit the EscaRosa Beekeepers Website.