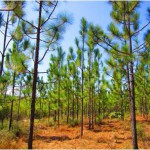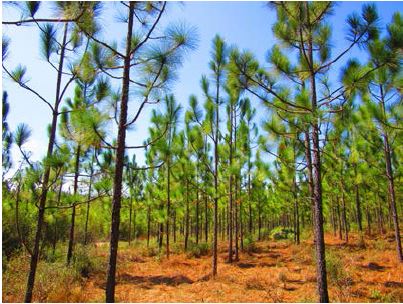 The Spencer family's primary objective for their land is production of high quality timber. Secondary objectives include wildlife management, with a strong emphasis on quail and white-tailed deer, enhancement of aesthetics and conservation of the soil and water resources. Timber production is focused on the best sites for growing pines. The three major timber producing pine species; slash, loblolly and longleaf pines; are represented here. Other areas are dedicated to wildlife enhancement, recreation and aesthetics. Invasive plants such as Japanese climbing fern and cogongrass are also being controlled. The family employs a variety of management techniques including prescribed fire, mechanical and chemical treatments. Join us for a tour. Some walking will be involved so wear appropriate clothing and footwear.
Cost is $ 10 per person, lunch and materials included. Please register on-line at https://fsp-tour051415.eventbrite.com/. Those without Internet access can reserve a space by calling Santa Rosa County Extension at (850) 623-3868. Payment can be made on-site with cash or a check, payable to University of Florida. Space will be limited so please register early.  Please share this announcement with others who may be interested. Contact Chris Demers, (352) 846-2375, cdemers@ufl.edu, for more information about Forest Stewardship Program events.
Download the printer friendly flyer with map and directions:
Directions to Spencer Family Property:
5001 Willard Norris Rd., Milton, FL 32570
From Hwy 90 (Caroline St.) in Milton:
Take Hwy 87 (Stewart Street) north to County Rd 191 (West Magnolia St.)
Turn left (west) on County Rd 191 (West Magnolia St.)
Travel about 4 miles on CR 191. After the Hwy 89 (Dogwood Dr) intersection CR 191 becomes Willard Norris Rd. You will pass True Grace Fellowship Church on the right; look for O'Neal Ln. on the right and slow down.
On the left side of the road, there will be a red brick house with a blond brick addition on the front. The dirt road entrance is just past this red/blond brick house. A Stewardship Forest sign will be displayed at the entrance.