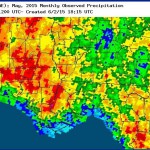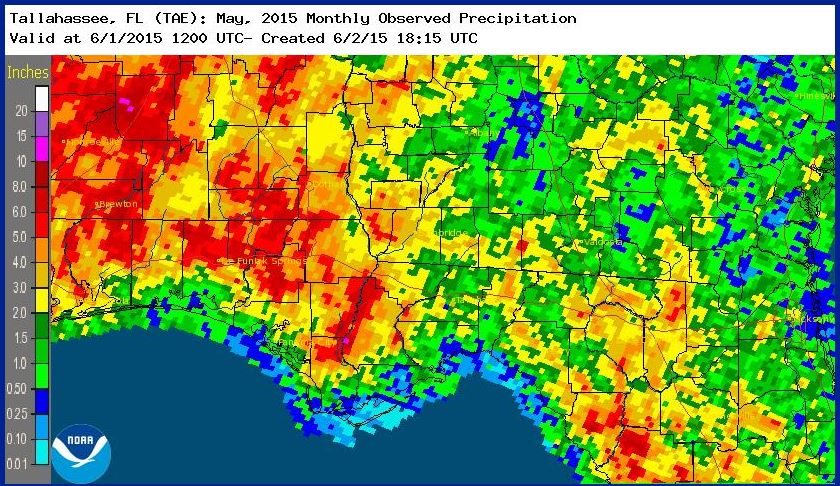 As in past years, May was significantly drier than April, with a great deal of variation of rainfall across the Panhandle.  The National Weather Service estimates for May rainfall ranged from less than an inch along the gulf coast to more than 6 inches along the Alabama border.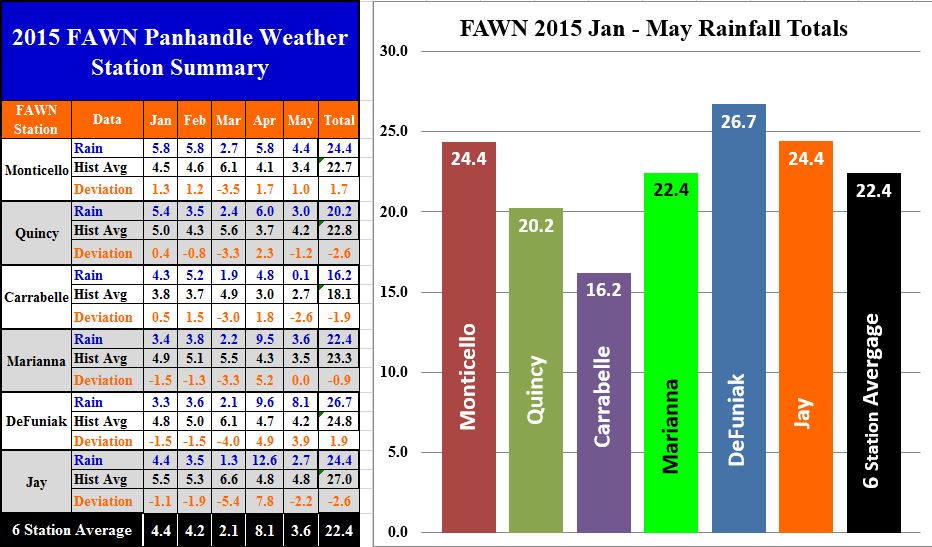 The six Florida Automated Weather Network (FAWN) Stations located in the Panhandle also showed the wide variation of rainfall that fell in May.  The Carrabelle station recorded less than 0.1″ in May, as compared to 8.1″ in DeFuniak Springs.  All six stations averaged 3.6″ for the month of May, and 22.4″ from January through May.  For the year, the direst location has clearly been Carrabelle with only 16.2″ in the first five months of 2015.  Compare that to 26.7″ in DeFuniak, and 24.4″ in Jay and Monticello. Even with the extra rain that fell in April, only two sites, Monticello and Defuniak are above average through the first five months of 2015.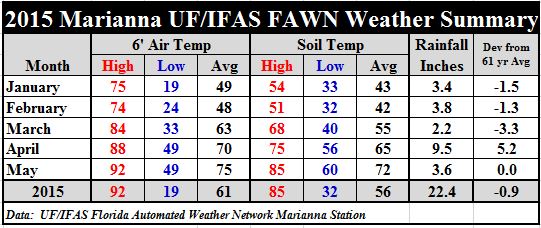 Temperatures rose significantly in May, but not to extremes, with high temperatures in the low 90's.  In Marianna, average air temperatures climbed  five degrees in May, from 70° in April to 75°.  Average soil temperatures rose seven degrees from 65° to 72°.

The two graphs above show how quickly the soil warmed up from the end of April into to early May.  The red line represents 65°, which is the minimum recommended soil temperature for peanut planting, while the green line at 68° is the ideal temperature for seed germination and development.  Once again early May was ideal for this crop in the region.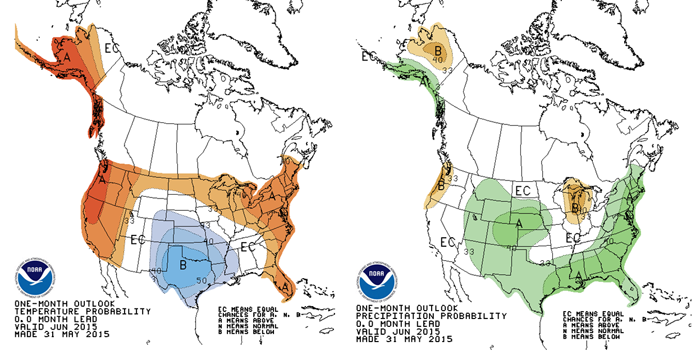 The Climate Prediction Center's precipitation outlook for June, calls for above average rainfall across the Southeast, and equal chances for normal temperatures in the Panhandle of Florida.  Crops that have been planted should continue to develop nicely over the next month, if their forecast holds true.
El Niño Advisory
El Niño conditions are present. Positive equatorial sea surface temperature (SST) anomalies continue across most of the Pacific Ocean. There is an approximately 90% chance that El Niño conditions will continue through Northern Hemisphere summer 2015, and a greater than 80% chance it will last through 2015.
Source NOAA Climate Prediction Center
What does that mean for agriculture?
Understanding the best management options for the ENSO phases is still a developing science. El Niño Impacts on most summer annual row crops are mixed. However, corn yields are usually about 20% lower than average, likely as a result of increase spring cloudiness. Peanut yields may be reduced under El Niño as a result of increased TSW virus. Rainy conditions beginning in fall season may delay harvests and planting of winter crops.   The following figure shows the historical ENSO impacts on peanut yields at Marianna, FL and Tifton, GA.  More information can be found at

www.AgroClimate.org/tools.php

Source:

AgroClimate.org