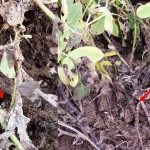 By Dr. Nicholas S. Dufault, Extension Specialist, Dept. of Plant Pathology, Univ. of Florida, Gainesville, FL
The incidence of white mold (a.k.a. stem rot) of peanut is increasing throughout the southeastern U.S. peanut production regions. This pathogen has been reported in multiple field sites throughout Georgia (Dr. Kemerait personal communication) and more recently on perennial peanut in Alachua Co. Florida. Experimental plots located at the Plant Science Research and Education Unit in Citra, FL have been devastated with this disease, however signs of the pathogen are cryptic as intense rainfalls have limited the white mycelial growth. Thus, identification of this disease may require a close inspection of symptomatic plants for mustard seed like sclerotia (Fig. 1) or a laboratory assessment. Management of this pathogen is generally improved when strategies are applied early in the disease development.
While soil temperatures varied across Florida early in the season, they are now highly conducive for this pest (Fig. 2) especially in areas with plenty of moisture (i.e. rainfall or irrigation). Producers with good canopy growth and/or row closure should be aggressive at managing this disease especially in fields with a history of stem rot. Further assessments of disease risk can be made through the use of the Peanut Rx tool (Android and IOS) and by scouting at risk peanut fields. There are multiple fungicide products available for stem rot control. Further questions about management or these products should be directed to your local extension office.
Proper management of white mold can lead to significant yield savings in high pressure years (> 500 lbs/A). This pathogen does most of its damage underground and often can go unnoticed until harvest. Now is the critical time point when protection from stem rot is needed, especially in fields with a high risk for this disease.
For more information on this topic please see the following publication: Management and Cultural Practices for Peanuts