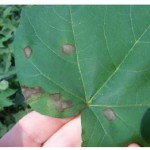 All are invited to attend the 2015 Extension Farm Field Day  that will be held on Thursday, August 27th at the UF/IFAS WFREC (4253 Experiment Road, Hwy 182, Jay, FL 32565).  Registration starts at 8:00 a.m. with tours beginning at 8:30.   Lunch will be generously provided through agribusiness sponsorship.
Florida and Alabama restricted pesticide license renewal CEUs will be available, as well as CCA points.
The following topics will be covered:
Weed control tools for row crops

Cotton Target Spot: Strategies for control

Peanut Varieties

Weed management in sesame and carinata production

Use of new 2,4-D resistant crops in integrated management of herbicide resistant weeds

Sesame: A potential alternative crop for the Southeast

Cotton Varieties and Soybean Varieties

Fungicides for disease control in peanuts
by calling Robin Vickers at 850-983-7134 or 850-393-7334.