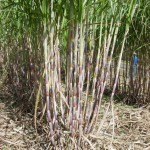 The Sugarcane Field Day is for anyone interested in learning about and obtaining different varieties of sugarcane for growing on their farm or garden.  The event will be held on Monday, November 2, 2015 at the North Florida Research and Education Center (NFREC), in Quincy, where a nursery of chewing, syrup, and crystal sugar cane varieties are kept. At the end of the presentations on sugarcane production, registered attendees will be allowed to harvest a limited number of stalks of each variety from the cane nursery, so be sure to bring your own tools to cut stalks and carry them home.  For more information on the Field Day consult the Sugarcane Field Day Brochure 2015.
Registration Information
Registration fee: $ 10.00 per participant. Make checks/money orders payable to: Gadsden County Extension Education Found. (GCEEF). Pre-registration is encouraged.
Pre-registered attendees will be given first access to the fields. Only those registered will be allowed in the fields.
Each participant is allowed to cut a strict maximum number of stalks (to be determined) of each variety for seed/propagation materials only.
Each participant should bring their own cutting tools and transportation.
Registered participants should send a signed note with a representative in order for them to pick propagation materials on their behalf.
To register, call the Gadsden County Extension office at 850-875-7255
Agenda
(All times eastern standard)
8:30  a.m. Registration
8:45  a.m. Opening Remarks
9:00  a.m. Cultural Practices
9:45 a. m. Varieties and Other Updates
10:00 a.m. Cane Cutting Instructions
For information about growing sugarcane see Backyard Sugarcane or contact your local UF/IFAS extension agent.