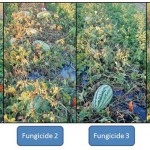 So far, mild winter temperatures and ample rainfall have led to multiple disease issues in many of northern Florida's winter crops (e.g. forages). While temperatures are predicted to be below normal for the months February, March and April, it is projected that rainfall will continue to be above average during that same period (Figure 1). Recent frosts in north and central Florida could help with the management of various plant pathogens, however, it is still likely significant levels of inoculum will be present this spring related to these winter weather trends. Thus, now is a good time to start preparing disease management strategies for spring cucurbits and other vegetable crops.
In general, the development of a quality disease management strategy starts by assessing the risk for diseases at each field site. This assessment should begin by examining the crop and field history of the site in relation to disease. Some general questions to consider are:
Was disease present last season, and if so, which one?
What variety will be planted and what are its disease traits?
What is the estimated planting date and how might that affect disease?
What was the crop rotation for the previous 3 years and how will that affect disease?
Answers to these questions will provide key insights about pre-plant disease risk. If the answers to one or more of these questions favor disease development, then options such as using a less susceptible variety or adjusting the planting date can be implemented to help reduce the risk level. This information can also be used to create and customize a chemical management program based on the identified disease issues. Further information about various chemicals available for cucurbits and types of programs available for watermelons can be found at the U-Scout website as well as in the Vegetable Production Handbook of Florida.
Assessing pre-plant disease is important for any integrated management strategy, however, in-season disease risks are just as important. The four main components of an in-season disease management strategy are prevention, monitoring, accurate diagnosis, and selection of optimal management tools. For example, monitoring cucurbit transplants and removing diseased seedlings will help prevent pathogen introductions especially for the diseases gummy stem blight and bacterial fruit blotch. Fungicides can also provide quality disease control and save yields, however, their effectiveness can vary depending on the pathogen present and the number of times products can be sprayed. Thus, once a disease is accurately diagnosed within a field, it is critical to adjust the chemical management plan appropriately. These adjustments can be made through consulting the resources listed below and/or by contacting local extension personnel for assistance.
Proper assessment of risk and planning for disease management will provide most of the tools needed for mitigating a disease's impacts on yields. However, even with proper management, diseases can still be a problem (Figure 2), and weather also plays a major role in a disease's impact. Thus, continued monitoring of the crops throughout the season as well as contacting extension and consulting specialists with questions about disease management strategies will be needed to maintain and/or modify in-season management programs.
The prediction for increased rainfall this spring means that there is a good chance diseases will be an important concern in 2016 cucurbit production systems. Assessing the disease risk and developing a quality management program now will go a long way to saving time and money later in the season.
More information on cucurbit disease management can be found at: