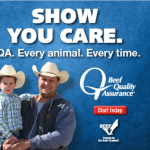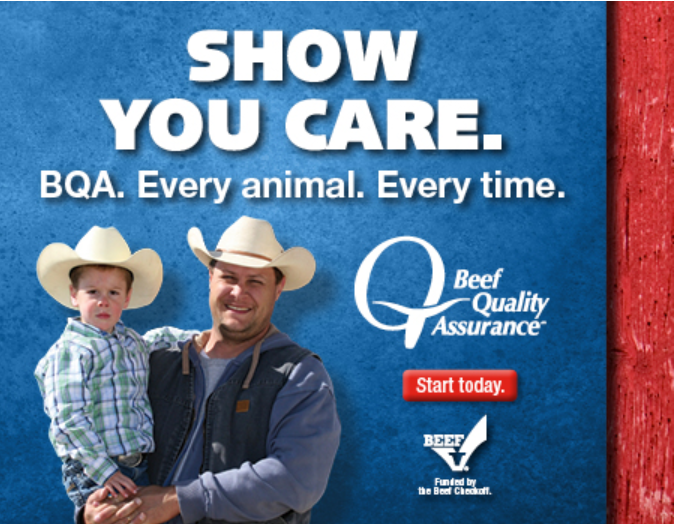 Cattle ranchers have a great training opportunity for both themselves, and their employees.  For a limited time, Boehringer Ingelheim Vetmedica, Inc (BIVI) is covering the cost of Beef Quality Assurance (BQA) training.  BQA is more than just giving shots correctly.  BQA means training everyone who works in the beef industry about humane animal handling, proper drug administration, record keeping to ensure proper drug withdrawal, and many other practices that ensure the consumer gets a safe product with consistent eating quality.  It is how the Beef Industry shows the consumer that we care about the food they eat.  There is a great deal of fear in America today about foods and food production techniques.  BQA certification is how the cattle industry can make a statement that cattlemen do things the right way.
Boehringer Ingelheim Vetmedica, Inc. (BIVI), is covering the cost of Beef Quality Assurance (BQA) certification through April 15, 2016. Beef and dairy producers can take advantage the free BQA certification online through April 15, 2016, courtesy of BIVI and the BQA program, which is funded by the beef checkoff. Register today and complete your certification at your own convenience.
The Cow/Calf Beef Quality Assurance is a series of 17 online training modules.  The Cow/Calf package covers information specific to the needs of today's cow/calf producers including up-to-date information on weaning and preconditioning of calves, handling and culling, herd health plans, calf management, and humane euthanasia.
Animal Abuse
The Care and Handling of Non-Ambulatory Cattle
Humane Euthanasia of Cattle
BQA Goals
Beef Quality Assurance Herd Health Plan Guidelines
Best Management Practices – Feed Additives and Medication
Best Management Practices- Animal Treatments and Health Maintenance
Residue Avoidance
Parasite Control
Best Management Practices – Record Keeping and Inventory Control
Animal Handling
Weaning and Preconditioning
Calf Management Practices
Handling and Culling
Best Management Practices – Foreign Object Avoidance
Vaccinology
The Cattle Industry's Guidelines for the Care and Handling of Cattle
Use the following link to access the online BQA Certification modules.  Use the coupon code BIVIBQA during checkout for free BQA training.

Why should you be BQA Certified?
BQA does more than just help beef producers capture more value from their market cattle: BQA also reflects a positive public image and instills consumer confidence in the beef industry. When producers implement the best management practices of a BQA program, they assure their market steers, heifers, cows, and bulls are the best they can be. Today, the stakes are even higher because of increased public attention on animal welfare. BQA is valuable to all beef and dairy producers because it:
Demonstrates commitment to food safety and quality.
Safeguards the public image of the dairy industry.
Upholds consumer confidence in valuable beef products.
Protects the beef industry from additional and burdensome government regulation.
Improves sale value of marketed beef cattle.
Enhances herd profitability through better management.