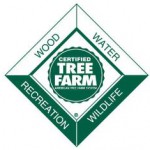 Jon and Carol Gould, 2006 Florida Outstanding Tree Farmers of the Year, manage their 640 acre Tree Farm, with assistance from consulting foresters, and do much of the work themselves. The Tree Farm is managed for sustainable forestry, wildlife, recreation, and aesthetics, and includes a highly diverse array of natural vegetation and wildlife, including several state threatened species and species of concern.
A total of over 60 species of trees have been identified on the property. A wide variety of woodlands is represented on this 174 acre forestland tract owned by the Goulds since 1966. Six species of pines (loblolly, longleaf, slash, Choctawhatchee sand, spruce, and shortleaf) and the pyramid magnolia, one of Florida's rare and endangered plant species, are visible from one location. Forest habitats include mature natural mixed hardwood and pine, mature natural wetlands hardwoods, and mature and immature planted loblolly, slash, and longleaf pine plantations. An old river ferry crossing known as Lassiter's Landing is located on the river bank.It was part of the old Tallahassee-to-Pensacola stage coach route during the 1830s. This crossing, along with a portion of the original stage coach trail, is still visible on the property today.
Most of the tour will involve riding on open trailers with several discussion stops and a couple of stops requiring short walks. Please wear appropriate clothing, footwear and bring rain gear, if rain is forecasted.
Registration
The registration fee is $ 10 per person, and includes lunch and materials.  Space will be limited so please register early. Two options to RSVP:
Register online: https://fsp-tour040516.eventbrite.com/.
Register by phone:  UF/IFAS Washington County Extension Office at (850) 638-6180.  Payment can be made on-site with cash or a check, made payable to University of Florida.
Directions to the Gould Tree Farm
Take either I-10 or Hwy. 20 to Hwy. 79 (from I-10, it's the Bonifay exit; from Hwy. 20, it's at Ebro).
Go to New Hope (south of I-10; north of Hwy. 20) and turn west on to Hwy. 284 (Millers Ferry Road).
Travel west on Millers Ferry Road for 3.6 miles to first paved road on the left on sharp curve, which is Shell Landing Road, right after passing Live Oak Baptist Church on the left.
Go 1.5 miles to Gould Tree Farm gate, which will be on your right. The address is 4132 Shell Landing Road, which is displayed on a small sign on one of the gate posts, along with a small American flag.
Go through the gate and 0.6 mile on dirt road to the house on the right.
If you get lost call Jon Gould's cell phone at 205-296-4923.
Meet at the property at 9:00 AM CT, April 5, 2016