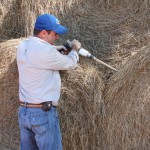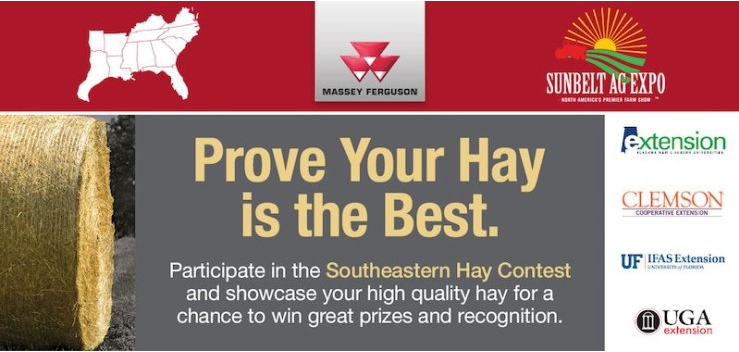 There are many economic reasons why southeastern forage growers have increased the quality of the forage they produce (great demand for their products, need for efficiency due to high input costs, etc.). But, the keys to success have been timely management, improved forage varieties, advanced harvest equipment, and related technologies that have come to the market over the last 10 years.  It is hard to recall a more exciting time in the hay and forage industry!  If you do a good job producing high quality forage, why not send in samples for analysis to prove it to your customers?  Who knows, you may have produced some of the best hay or baleage in the Southeast in 2016?
Since 2004, the Southeastern Hay Contest has been spotlighting high quality hay and baleage produced in the Southeast. The SE Hay Contest is run in conjunction with the Sunbelt Ag Expo, with the winners announced each year on the first day of the Expo. Our goal is to demonstrate the potential to produce high quality hay and baleage, showcase the management abilities of our SE growers, and highlight the technology and equipment that make it all possible!
Building on the success of the first 11 years of this annual event, we are excited to announce that Massey Ferguson will be the title sponsor for the 2016 SE Hay Contest! They will be providing the Grand Prize of a new Massey Ferguson RK Series rotary rake or new DM Series Professional disc mower for the 2017 hay production season AND a $ 1000 cash prize!  Each of the 9 categories will also be sponsored by more of our industry partners (see our sponsors page). Their sponsorship will provide cash awards to the top 3 places in each category (1st prize $ 125, 2nd prize $ 75, and 3rd prize $ 50)!
So, is your hay and baleage the class of the field? Think you can vie for a winning combination? If so, utilize the links below and start sending in your best forage samples today! The deadline for entry into the SE Hay Contest is 5 p.m. on Monday, September 22, 2016.  Even if you don't take home a cash prize, you will still have the lab test results from each sample to share with your customers.  It is a win:win situation.
While you're at it, take time to advertise your high quality forage in the 2016 SE Hay Directory. The SE Hay Directory seeks to connect our high quality forage producers with buyers who value quality tested forages. Read more about the SE Hay Directory by downloading the rules and entry forms.